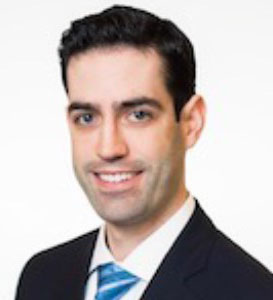 For Paul McCabe, a former employee of The New England Center for Children, the memories of watching students learn and grow are the ones that have remained with him over time.
"I remember being in the cafeteria and there was a student in there with his father," Paul recalls. "The student was probably around twelve or thirteen years old, and he was doing some food preparation work. The boy's father was so impressed, and I could see how much it meant to him to see his son succeeding. That has always stuck with me, how meaningful those moments are."
A self-described "utility player" for the maintenance department from 2009 to 2011, Paul's path both before and after his time at NECC is different than most. Paul learned about NECC through his friend Tim Sullivan, a friend who also grew up in nearby Dedham, MA, and is the nephew of former NECC Chief Financial Officer Michael F. Downey. During school breaks from Boston College, Paul joined Tim as part-time workers at NECC. In his role, Paul filled in wherever he could. Some days this meant helping with repairs at residential facilities, others it was working in the cafeteria. The constant theme of Paul's work though was always being around students. His job allowed him the opportunity to see students and teachers working closely together, constantly striving for success. Still though, while Paul loved his time at NECC, his calling laid elsewhere.
Always interested in science and with a desire to help people, Paul's path has taken him to a career in medicine. After graduating from Boston College in 2013, and conducting two years of research at the college, he enrolled at the Frank H. Netter MD School of Medicine at Quinnipiac University in 2015. He later graduated from Quinnipiac with distinction for his capstone project on the treatment of the hepatitis C virus in the homeless population in Boston and matched into the Internal Medicine Residency Program at the University of Massachusetts Memorial Medical Center in Worcester in 2019.
Paul is now in his second year at UMass Memorial, having spent much of the last fourteen months on inpatient floors and the intensive care unit caring for patients with COVID-19. His work ethic and compassion, demonstrated both during his residency and in the many years spent doing volunteer work in and around the Boston area, was partially built through his time at NECC.
"Working at NECC, I learned so much about work ethic and the importance of building rapport in caregiving. In some ways, there are a lot of parallels between the work NECC teachers do with students and the care that medical professionals provide their patients."
As Paul continues his career in medicine, much will change. The conditions that healthcare workers have worked under throughout the pandemic will eventually pass, and medical professionals like Paul will shift their focus elsewhere. No matter what happens next though, for Paul, his time at NECC will remain impactful.
"Always fond memories," he says. "It was a fantastic experience."
About The New England Center for Children
The New England Center for Children® (NECC®) is an award-winning autism education center and research institute. Committed to creating a world where autism is not a barrier to happiness, growth, and independence, our community of teachers, researchers, and clinicians provide comprehensive services including home-based, day, and residential programs, partner classrooms in public school systems, consulting services, and the ACE® ABA Software System (www.acenecc.org).
We are committed to creating an equitable workplace for our diverse team and providing industry-leading staff professional development opportunities, specifically with our on-campus graduate degree partnership programs. The result is a growing pool of autism educators and researchers that impact the lives of children with autism both at NECC and around the world. The New England Center for Children is based in Southborough, MA, and operates a center in Abu Dhabi, UAE. Learn more at www.necc.org.